With some of my recently changed formulas I've run into a problem. Here's a screenshot illustrating the problem: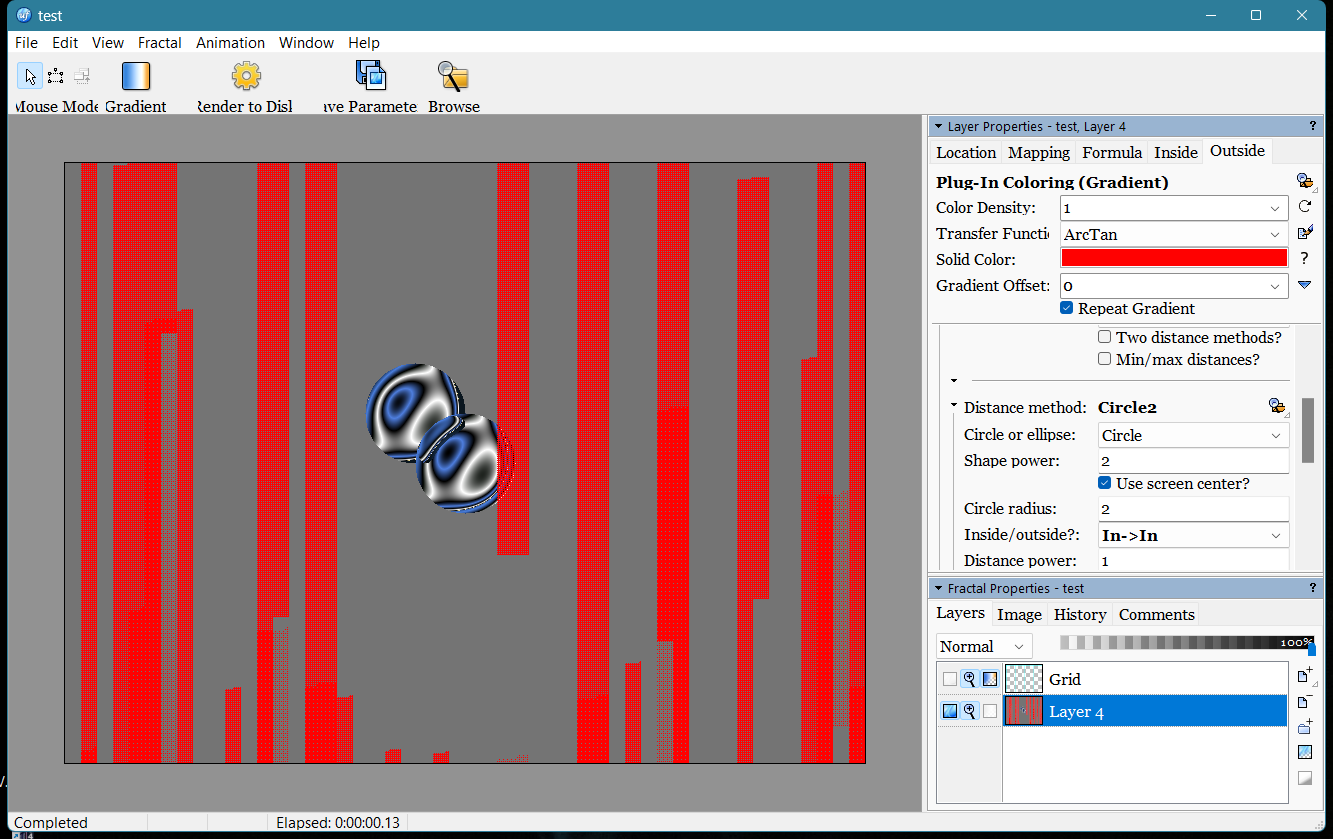 The red bars should not be there. If I reload the fractal, the bars are different but still red. I also get different red bars with and without anti-aliasing, and different red bars when rendering. This image is with min and max threads of 20, the max on my system. With fewer threads there are fewer bars. With min and max threads of 1, no red bars.
This particular coloring uses an iteration only if the current z and the previous z are both inside a circle. My guess is that that is the source of the problem.
I get similar problems with the last 6 of the 9 "Inside/outside?" menu choices; all 6 of these use only some iterations for coloring.
Here's the upr (reload your public formulas before opening it):
/>test {
::0rmByhn2dmVTvtNOQ07BI/HE09kISL/R6CuAtpNdbRTv0EguFLgBtEtNbkoEkojjzv+dIFls
lFplcPZLNvZ4w3Mc4QxlF0IJN5dXehnnkLTYEfJrU67tlHLXTmFE4tmxXtWSmA/NhujVUSwK
0RFsYusk4/Veq3HS2w+rbvBdDOAPy/yL0A1GNimL5ZCi/nL4x+eZ50IucHBBW7FeJfBMiiMv
UmcdWMJdTiknTLL1uTBVUmTLYCJZHDeVKNPnLWVZW4tsCSwNBep0VCSw1I84LvYZWBYDqGSK
9VuCD2LnVEtmF9MJb5Svl8EmgmCT0fnf9mlp+egpK2R8z5vyS+dO49cRJPm9uGnYJYFRmg5V
mlwjJh4pzwox4bDu8isNyuYT4CGtoB9MU4kJzme7hDdyir3El0M2ayRZj85iXJhqf2p/5V5a
O44BXHEgHDPv7onZxrAz9P0klVRMwIrKoxcwuafCclnZxK+zrMNLDCpq/WkJp6oSYgHXEzel
gh/FllkVQQTmOdKM9g5WVsSbneVuOwGYN4/N1r8CbH/7G0tEhvK46x7DyuCxjDcFk/hkKipF
x6QtSnaGnJYF8o7rsmPQlGDfXC4KmIUyi391v9h5/YLXGt+us0FZmg0hYv+l5rqMmeW1Ro5R
lQrKXyTzTYl6xgg7ah855ZbVTybcovWzIl3Rw4gZBojx8W8bk3sob+8Ugc2pjqdEVKpFS1CM
rKWygsqgrHZV8y5/wwro2E53hcII+WL1/062mY7Fb9/VcYvgNeybNKZfEEICq7knvgyTgKCW
ZG+iH3lDJe/yLm/CrYFr03CIjM1wGYnhVQkKLlmFbRKVsCKd6Q1oMhx8f6qJnkLwtDQP9zhF
bwnRsBfOxGF49OBkPjw4p9oR+8H0El1ASbg60WogyVqKJnE7SwNazNfYzCY3qH1F5BU+DwAn
FLZUQWPADXlNlsizWNQp5RyiqtW7H++NcHCaYLogqy19jdRV/E9Cbu7U+OgfVtNcVAbIwZKi
oanmhAvcYec+wgdGTLoUAj8doTkBFDWSh0uhFDok+gRjjfU3EUfmjLoJP945l53ozZlF3o1G
JPBaq4PR5nhOYIvPOegw11Z+mu9OlGL7Xj7JQ7hC5At/mHbXzpaoeCWfbq78fKDBFfGmx+ji
Cb+TDEaFP7aRHqcnpLYColGYTghbF6QqRtH+CCawwZozw2Ms6QJDGO1hfkPfI9TcQ7EWtxJ7
l4UtScUnE9eyoZjDnEOe6EHnMiWAn2U0g+2wbDwBopW7XHOeU3+1/s5wN3pOrC0AnZX4IzjW
ae/jcoTWRE7Ua0pF+jlW/8eCuj+GHrXkwBoVHJqpT92irYmm9kbLU3H/V6zp2RWrgYbRLBte
rrCqEOoCW73ePpkLWbzK3ffPskGgll+WQ5oIRXk7JrpjsOia/1h257Py0REyTHVm9hM2C+my
WFe8doptaq2A178rC2goiKo28y9NU3VDIu/SnAsWgLSTJkGo/qKWFh2XkyiUsOjymoFBnSxF
IyVO1E7ST52sYYpt6rHdsIghegLeg+azRCaLPOOlLIIbvH0xRMosZl9DZxWtqybaX65OeRUC
D77Ce/5SGU1FxIYEKAdrbk1LYGBVXmZHjejgKPzpdyVf1MbCKjKYMxczpBcUnSj8gvQnV5F1
dHbR2a4Fv5yFg5o8E6aKEaXIXMH2Xi4/FxV/9XEujL5ZbtlfoEFnNvMimwclbpxM8Y7ZGgbH
lV7h0DWd0+B92+ugU27UhL0kefwkJZrstesZpDy1aHz3ZprhP6DI9xf+v/yZUDNMKHNc6GdE
V7AUNH72Ml2olKR9ytoae1aLBfsbVHXckGb/cUNsBwRGonmjqAdKOqChVOqS0J5Ij97L3D7M
3D7I3Dbtauz0P8wS/wDP9D3qBI8JM5B10dgI3dJT8wrqj7rsO+U11xnswOunK7gpV37grg1p
6AuCgp4/n4y1sCX0kqwvbTMgi/4zo6P+ML/jPn6/4BsBAu/dAwDcLAcP7BklymTTSI+evPJx
6ioqbcIsz7XntNlK25sxMla2WDb0DbPgu18Nj7IIfrc/nu8o5p6uqIxdaq+z6TN1B+CX9uGp
Hb4MtApIhcEv3DkLdFzvDy7qS3cN1fmDHf/FrE+b91vq+LPo/aidpgqLcymWqr+QtKC9Jc3K
AFsIeuOHp1lQau8QwJbu7wrmGau8wpm7d82xjnNdyIzbRjb/alZMX24Ejk6bfMcyR3cp59TO
G4M9VhYwGOeGaEYLzwFcMYE2hZBNPwM4ZNKE2xENegZ0Q1Ca5J7NBOwxYi7MpxhunM4Ozc8M
HGeUwBmpGtK2Uje00QMaatgxhHDdU4BuRbbfFqBt17SGSHqAu/yjxjBu9/Rx+ASw
}
With some of my recently changed formulas I've run into a problem. Here's a screenshot illustrating the problem: ![64f233e72b43e.png](serve/attachment&path=64f233e72b43e.png) The red bars should not be there. If I reload the fractal, the bars are different but still red. I also get different red bars with and without anti-aliasing, and different red bars when rendering. This image is with min and max threads of 20, the max on my system. With fewer threads there are fewer bars. With min and max threads of 1, no red bars. This particular coloring uses an iteration only if the current z and the previous z are both inside a circle. My guess is that that is the source of the problem. I get similar problems with the last 6 of the 9 "Inside/outside?" menu choices; all 6 of these use only some iterations for coloring. Here's the upr (reload your public formulas before opening it): test { ::0rmByhn2dmVTvtNOQ07BI/HE09kISL/R6CuAtpNdbRTv0EguFLgBtEtNbkoEkojjzv+dIFls lFplcPZLNvZ4w3Mc4QxlF0IJN5dXehnnkLTYEfJrU67tlHLXTmFE4tmxXtWSmA/NhujVUSwK 0RFsYusk4/Veq3HS2w+rbvBdDOAPy/yL0A1GNimL5ZCi/nL4x+eZ50IucHBBW7FeJfBMiiMv UmcdWMJdTiknTLL1uTBVUmTLYCJZHDeVKNPnLWVZW4tsCSwNBep0VCSw1I84LvYZWBYDqGSK 9VuCD2LnVEtmF9MJb5Svl8EmgmCT0fnf9mlp+egpK2R8z5vyS+dO49cRJPm9uGnYJYFRmg5V mlwjJh4pzwox4bDu8isNyuYT4CGtoB9MU4kJzme7hDdyir3El0M2ayRZj85iXJhqf2p/5V5a O44BXHEgHDPv7onZxrAz9P0klVRMwIrKoxcwuafCclnZxK+zrMNLDCpq/WkJp6oSYgHXEzel gh/FllkVQQTmOdKM9g5WVsSbneVuOwGYN4/N1r8CbH/7G0tEhvK46x7DyuCxjDcFk/hkKipF x6QtSnaGnJYF8o7rsmPQlGDfXC4KmIUyi391v9h5/YLXGt+us0FZmg0hYv+l5rqMmeW1Ro5R lQrKXyTzTYl6xgg7ah855ZbVTybcovWzIl3Rw4gZBojx8W8bk3sob+8Ugc2pjqdEVKpFS1CM rKWygsqgrHZV8y5/wwro2E53hcII+WL1/062mY7Fb9/VcYvgNeybNKZfEEICq7knvgyTgKCW ZG+iH3lDJe/yLm/CrYFr03CIjM1wGYnhVQkKLlmFbRKVsCKd6Q1oMhx8f6qJnkLwtDQP9zhF bwnRsBfOxGF49OBkPjw4p9oR+8H0El1ASbg60WogyVqKJnE7SwNazNfYzCY3qH1F5BU+DwAn FLZUQWPADXlNlsizWNQp5RyiqtW7H++NcHCaYLogqy19jdRV/E9Cbu7U+OgfVtNcVAbIwZKi oanmhAvcYec+wgdGTLoUAj8doTkBFDWSh0uhFDok+gRjjfU3EUfmjLoJP945l53ozZlF3o1G JPBaq4PR5nhOYIvPOegw11Z+mu9OlGL7Xj7JQ7hC5At/mHbXzpaoeCWfbq78fKDBFfGmx+ji Cb+TDEaFP7aRHqcnpLYColGYTghbF6QqRtH+CCawwZozw2Ms6QJDGO1hfkPfI9TcQ7EWtxJ7 l4UtScUnE9eyoZjDnEOe6EHnMiWAn2U0g+2wbDwBopW7XHOeU3+1/s5wN3pOrC0AnZX4IzjW ae/jcoTWRE7Ua0pF+jlW/8eCuj+GHrXkwBoVHJqpT92irYmm9kbLU3H/V6zp2RWrgYbRLBte rrCqEOoCW73ePpkLWbzK3ffPskGgll+WQ5oIRXk7JrpjsOia/1h257Py0REyTHVm9hM2C+my WFe8doptaq2A178rC2goiKo28y9NU3VDIu/SnAsWgLSTJkGo/qKWFh2XkyiUsOjymoFBnSxF IyVO1E7ST52sYYpt6rHdsIghegLeg+azRCaLPOOlLIIbvH0xRMosZl9DZxWtqybaX65OeRUC D77Ce/5SGU1FxIYEKAdrbk1LYGBVXmZHjejgKPzpdyVf1MbCKjKYMxczpBcUnSj8gvQnV5F1 dHbR2a4Fv5yFg5o8E6aKEaXIXMH2Xi4/FxV/9XEujL5ZbtlfoEFnNvMimwclbpxM8Y7ZGgbH lV7h0DWd0+B92+ugU27UhL0kefwkJZrstesZpDy1aHz3ZprhP6DI9xf+v/yZUDNMKHNc6GdE V7AUNH72Ml2olKR9ytoae1aLBfsbVHXckGb/cUNsBwRGonmjqAdKOqChVOqS0J5Ij97L3D7M 3D7I3Dbtauz0P8wS/wDP9D3qBI8JM5B10dgI3dJT8wrqj7rsO+U11xnswOunK7gpV37grg1p 6AuCgp4/n4y1sCX0kqwvbTMgi/4zo6P+ML/jPn6/4BsBAu/dAwDcLAcP7BklymTTSI+evPJx 6ioqbcIsz7XntNlK25sxMla2WDb0DbPgu18Nj7IIfrc/nu8o5p6uqIxdaq+z6TN1B+CX9uGp Hb4MtApIhcEv3DkLdFzvDy7qS3cN1fmDHf/FrE+b91vq+LPo/aidpgqLcymWqr+QtKC9Jc3K AFsIeuOHp1lQau8QwJbu7wrmGau8wpm7d82xjnNdyIzbRjb/alZMX24Ejk6bfMcyR3cp59TO G4M9VhYwGOeGaEYLzwFcMYE2hZBNPwM4ZNKE2xENegZ0Q1Ca5J7NBOwxYi7MpxhunM4Ozc8M HGeUwBmpGtK2Uje00QMaatgxhHDdU4BuRbbfFqBt17SGSHqAu/yjxjBu9/Rx+ASw }